In a significant development, Ocean Grown Abalone Limited (ASX: OGA) has recently completed the preliminary concept design study for developing the Esperance Project with positive results. The study focused on determining the suitability of the land to meet OGA's strategy of vertical integration and growth of existing ocean ranching operations.
OGA owns and operates an abalone sea ranching business, tapping the lucrative market opportunity represented by abalone - a high value sought after delicacy, particularly in Asian markets. OGA supplies commercial quantities of its 'wild-harvested' and 'first-class' greenlip abalone at market competitive sizes in the domestic abalone market space.
The greenlip abalone are grown in the pristine waters of Flinders Bay, Western Australia, with a minimal environmental footprint without feed and power inputs, representing a green and sustainable model.
The company builds artificial abalone "sea ranches" (termed abitat) with hatchery reared juvenile abalone placed on them at an average size of 40mm. The abalone nurtures in the ocean with the self-sustaining ranches to grow naturally for approximately 3 years, followed by seeding of new juvenile abalone as the mature ones are harvested at a preferred size.
Looking at its recently released September quarter results, Ocean Grown Abalone seems to be ideally positioned to achieve its objective of optimising existing operations, increasing revenue and enhancing brand recognition in Asian markets with the following developments-
Positive results for the development of the abalone hatchery and grow-out facility at Esperance enhancing the potential to expand marketing opportunities and product lines,
Recently completed Augusta processing facility to handle greater harvest volumes,
Significant increase in abalone biomass at Flinders Bay Ranch.
Owing to the quality and sustainability of its greenlip abalone, Ocean Grown Abalone bagged two state awards in September 2019, and picked up the National Hong Kong Export Awards in Sydney this week!
Significant development at Esperance abalone hatchery and grow-out facility
Considering Esperance as the premium location to setup a 500 tonnes p.a onshore abalone hatchery and grow-out facility, OGA formally executed the land agreement with the Shire of Esperance in July 2019 for using the land identified near Esperance for an onshore grow-out facility, subject to a positive feasibility study, project financing and all necessary approvals.
With access to labour, infrastructure, third party support services and pristine oceanic water with water temperature profile (14-210C) ideal for greenlip abalone culture, the land is suitable for the development of a large-scale abalone farming business. The land provides enormous opportunities for future expansion and further diversification, with potential for installation of green energy – solar/wind/harvesting outflow water.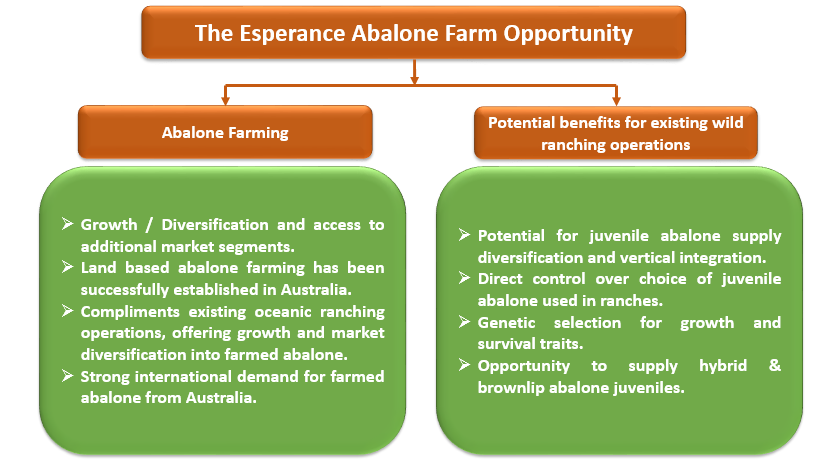 Following the successful completion of concept design study, the company's Board is confident to continue to the next stage of feasibility assessment, which is expected to be completed around April 2020.
Going forward, the company is planning to proceed with the next stages of feasibility, secure licenses, obtain approvals and assess funding strategies for the Esperance abalone farm. The company has proposed the following timeline to continue with Esperance development:
Augusta processing facility officially opened; Progressing to Final Fit-Out
OGA's old processing facility experienced bottlenecks, restricting the volumes divers could bring back. However, the new processing facility at Augusta Boat Harbour is expected to aid OGA to process greater amounts of its locally produced products.
The company has completed the installation of live tanks at the new processing facility at the Augusta Boat Harbour, providing increased capacity to deliver its premium, live, greenlip abalone into local and Asian markets.
The new facility is supported by $500,000 in McGowan Government grants, enabling OGA to spread the West Australian delicacy across the globe and create local job opportunities.
The new processing facility provides the company with an opportunity to unlock value via increased production capacity and flexibility, improved operational productivity for dive crew, processing and management along with lower unit costs of production. The company is likely to commence processing at the facility by end of November 2019.
Recognized in Australia and Asia for quality abalone
Fishtech Award in 24th China Fisheries & Seafood Expo in Qingdao in the category "Technology & Innovation in sustainable seafood".
WA Business Export Award from the Hong Kong-Australia Business Association.
National Business Export Award from the Hong Kong Business Association
WA Industry & Export Award from the Export Council Australia in the category of "Sustainability".
Products featured in the 'Margaret River on Tour' held at the Grand Hyatt in Singapore and Malaysia.
September Quarter Sales Up by 11%
Largest single shipment of 9 tonnes of whole weight equivalent (WWE) greenlip abalone to Hong Kong in the month of September.
Sales of 11.5 tonnes for the quarter, 11% higher than the 10.4 tonnes in Q1FY19YTD.
Seeding of 0.5 million juvenile abalone on OGA's Flinders Bay abitat in the quarter.
Harvest of 14.7 tonnes in the quarter, 53% greater than the 9.6 tonnes in Q1FY19YTD.
Decent working capital position
OGA reported $1.46 million cash and cash equivalents at the end of Q1 FY20 with significant $0.89 million received as payment from customers.
The company believes that there will be sufficient cash available for ongoing operations from future sales and the expected receipt of an R&D refund. In case there is a timing mismatch in the revenue receipts and incurring costs, OGA has the option to avail a business overdraft facility of $1 million to meet its working capital requirements.
Forward Plan for Q2 FY20
Esperance – Assessing 34 Ha prime coastal land to develop land-based abalone hatchery and grow-out business.
Processing facility – Final fit-out completed and fully operational, expected to be licensed for operation in November 2019
Harvest – Focus will be on live abalone with improving harvesting techniques.
OGA closed the trading session at $0.160 on 15th November 2019. The stock has generated a YTD return of 15 per cent.
---
Disclaimer
This website is a service of Kalkine Media Pty. Ltd. A.C.N. 629 651 672. The website has been prepared for informational purposes only and is not intended to be used as a complete source of information on any particular company. The above article is sponsored but NOT a solicitation or recommendation to buy, sell or hold the stock of the company (or companies) under discussion. We are neither licensed nor qualified to provide investment advice through this platform.