At the close of trading session on 25th November 2020, S&P/ASX200 settled at a new 100-day high as there was a rise of 39.20 points or 0.59% to 6683.30. On the same day, academic & educational services sector rose by 3.10%.

Sector Summary (Source: Refinitiv (Thomson Reuters))
Movements on the Wall Street: On November 24, 2020, Dow Jones Industrial Average increased 1.53% to 30,046.24. Notably, NASDAQ Composite rose by 1.31% to 12,036.79.
Top Gainers and Losers: Whitehaven Coal Limited (ASX: WHC) and Omni Bridgeway Limited (ASX: OBL) rose by 10.71% and 9.05%, respectively. On the flip side, Mesoblast Limited (ASX: MSB) fell by 7.16%.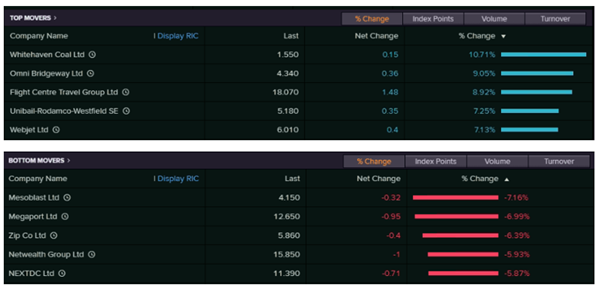 Top Movers (Source: Refinitiv (Thomson Reuters))