On 4th November 2020, benchmark index S&P/ASX200 settled with a fall of 4.30 points to 6062.10. This was primarily due to a fall of 1.97% in academic & educational services sector and a fall of 1.27% in basic materials sector.
Sector Summary (Source: Refinitiv (Thomson Reuters))
Movements on the Wall Street: On November 3, 2020, Dow Jones Industrial Average increased 2.06% to 27,480.03. Notably, NASDAQ Composite rose 1.85% to 11,160.57.
Top Gainers and Losers: Nanosonics Limited (ASX: NAN) and Megaport Limited (ASX: MP1) witnessed a rise of 12.50% and 6.62%, respectively. On the flip side, Pendal Group Limited (ASX: PDL) tumbled by 7.98%.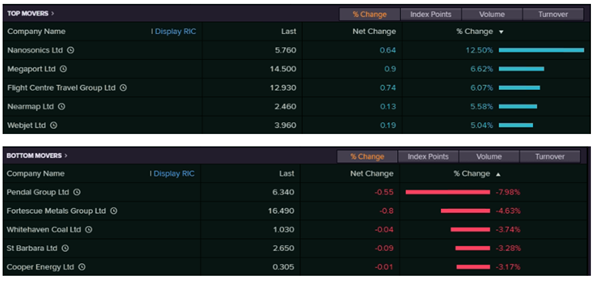 Top Movers (Source: Refinitiv (Thomson Reuters))