On 30th June 2021, the broader Australian market ended the session in green as there was buying witnessed in the technology stocks. ASX 20 rose by 0.08% to 4,120.80 and ASX 200 increased by 0.16% to 7,313.00. Also, ASX 300 rose by 0.21%.
Data Source: ASX; Table Source: Copyright © 2021 Kalkine Media
ASX Midcap 50 Outperformed Rest of Indices:
ASX 200 Index settled at 7,313.00, showing a growth of ~23.99% in the time frame of 1 year. Also, ASX Midcap 50 Index and ASX Small Ordinaries Index settled at 8,993.10 and 3,383.60 points, respectively.
S&P/ASX 200 vs S&P/ASX Midcap 50 Index vs ASX Small Ordinaries Index – One Year Return

Source: REFINITIV
Gainers and Losers:
Nuix Limited (ASX: NXL) stated that ASIC is conducting an investigation with regards to Nuix's former CFO, Stephen Doyle, Ross Doyle as well as Ronald Doyle.
The company also stated that ASIC's Financial Reporting and Audit Enforcement Team (or FRAET) started the separate investigation into the affairs of NXL, specifically, suspected contraventions of the sections 296, 344 as well as 1308 of the Corporations Act with respect to the financial statements of NXL for the time periods ending 30th June 2018, 30th June 2019 and 30th June 2020 lodged with Australian Securities and Investments Commission as well as sections 1308 and 1309 of the Corporations Act, with respect to the IPO Prospectus lodged by the company with ASIC and with Australian Securities Exchange.
Telstra Limited (ASX: TLS) made an announcement about selling the 49% of Towers business for the consideration amounting to $2.8 Bn.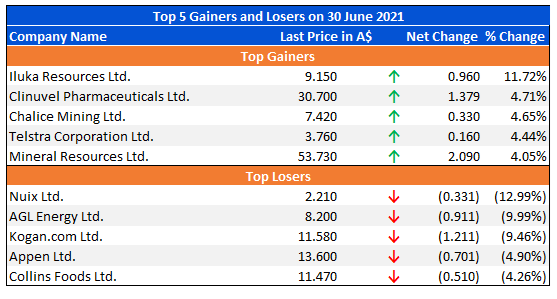 Data Source: ASX; Table Source: Copyright © 2021 Kalkine Media
Movement on Wall Street:
On 29th June 2021, NASDAQ Composite increased 0.19% to 14,528.34. Notably, Dow Jones Industrials Average witnessed a rise of 0.03% to 34,292.29.
Note: The reference data in this article has been partly sourced from REFINITIV