Highlights

The ASX 200 ended in a volatile trading session on Friday.
The benchmark index finished the week with 0.7% gain.
Eight of 11 sectors ended higher, while energy and materials declined the most.
Asian shares traded mostly higher, led by Japan's
The major cryptos such as Bitcoin, Ether, Dogecoin were flashing in red zone.
Australian shares closed flat in choppy trade on Friday as gains in consumer discretionary and property stocks were offset by sharp losses in energy and mining companies. The equity market witnessed subdued trade throughout the day amid mixed global cues, while inflation worries also kept investors sidelined. The correction in commodity prices also weighed on market sentiment.
The benchmark ASX 200 index ended just 0.10 points Friday to 7,415.50. The index opened higher today, but soon pared gains and fell as much as 0.3%.
The ASX 200 finished the week with a 0.7% gain, led by a sustained rally in A-REIT, consumer discretionary, financials, and tech stocks.
On the sectoral front, eight of the 11 sectoral indices were trading higher, led by consumer discretionary stocks. The A-REIT sector emerged as the biggest gainer by rising 1.7%. It was followed by over 1% gain in the consumer staples and A-REIT sector. Among others, health care, telecom, utilities, and tech sectors also settled in green zone.
Meanwhile, energy and material sectors emerged as the worst performers, owing to a fall in commodity prices. The energy sector tumbled 4.4%, while materials space saw a drop of 1.3%. The telecom sector also ended 0.8% lower.
Top gainers and losers
The biggest gainer on the ASX pack was healthcare equipment manufacturer Healius (ASX: HLS), which ended 4.3%% higher. Some of the other notable gainers were retailer Wesfarmers (ASX:WES), Auckland International Airport (ASX:AIA), gold miner Silver Lake Resources (ASX:SLR), and private hospital operator Ramsay Health Care (ASX:RHC).
On the losing side, resource company Lynas Rare Earths (ASX: LYC) was the biggest laggard with an 8.2% loss. Some of the other worst performers were transportation business Aurizon Holdings (ASX:AZJ), nickel producer Nickel Mines (ASX: NIC), miner Mineral Resources (ASX: MIN), and oil producer Beach Energy (ASX: BPT).
Japan's Nikkei leads Asian stocks higher
Image source: deepadesigns, Shutterstock.com
Asian stocks were trading mostly higher on Friday, following overnight gains in Wall Street. The market sentiment was boosted by strong corporate earnings while lingering inflation concerns capped upmove. Investors also cheered a report that indicated that crisis-hit China real estate major Evergrande Group had paid interest on an overdue bond a day ahead of the deadline.
Japan's Nikkei was the best performer in the Asia-Pacific region with a 0.75% gain. South Korea's KOSPI climbed 0.2%, while Hong Kong's Hang Seng traded 0.45% higher.
Among other Asian markets, The Straits Times in Singapore gained 0.3%, while Thailand's SET Composite surged 0.35%. China's Shanghai Composite also traded 0.1% higher at the time of reporting.
In a similar trend, Indonesia's Jakarta Composite traded higher with marginal gains, while India's BSE Sensex rose 0.7% in opening deals.
Bucking the trend, Taiwan's Weighted Index was down 0.1%.
Meanwhile, Wall Street ended mixed in overnight trade on Thursday amid persistent concerns about a range of issues such as rising inflation, supply chain disruption, as well as slowing economic growth. The S&P 500 ended 0.3% higher, hitting an all-time high after bouncing back from an early slide. The NSADAQ Composite also pared early loss to close 0.6% higher. The Dow Jones Industrial Average ended marginally lower, falling 00.2%.
Bitcoin, Ether, Dogecoin trade lower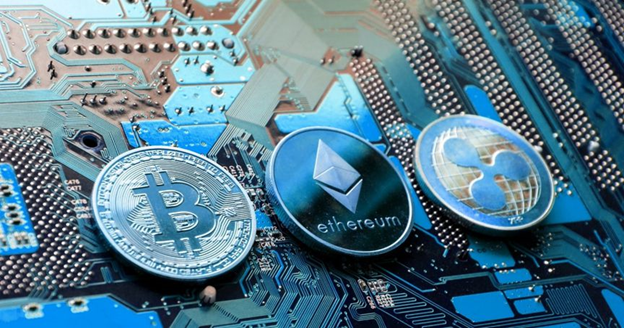 Image source: © Josefkubes | Megapixel
The major cryptocurrencies traded mostly lower during Asian Trading hours on Friday. The crypto total market cap dropped 1.4% to US$2.59 trillion in the past 24 hours of trade. The market showed signs of exhaustion after a recent rally as investors turned cautious amid inflation worries.
The price of Bitcoin, the world's largest cryptocurrency by market cap, was down 2.7% at US$63,200. The most popular crypto temporarily plunged by about 87% on Binance's US exchange on Thursday morning, hitting a low of US$8,200 from around US$65,000. This was attributed to a major snafu in cryptocurrency trading. Bitcoin price hit an all-time high of around US$66,900 on Wednesday after the successful launch of the first US bitcoin futures exchange-traded fund.
Ether, the world's second-largest crypto, was trading lower by 0.5% to US$4,140. The coin linked to the ethereum blockchain has gained nearly 9% in the past week.
Meanwhile, the price of Cardano, the third-largest cryptocurrency by market cap, fell by 0.7%, while the Dogecoin price dropped nearly 3%.
Other virtual currencies such as Binance Coin, Litecoin, Tether, Shiba INU, XRP, Stellar, Solana, and Uniswap also witnessed bearish trade.