Summary

Spacetalk announces the launch of Fall Detection technology on all Spacetalk LIFE smartphone watches for seniors.
Enabled automatically via a free over-the-air upgrade.
Significant enhancement to LIFE, incorporating real-time data recording and triangulation, artificial intelligence (AI), and machine learning which continually enhances its high accuracy as more people use the devices.
Breakthrough technology which is a world-first for devices purpose-built for seniors and people with special needs.
Spacetalk LIFE also now has life-saving Medical ID functionality, which provides medical, allergy and other critical personal information of wearers to emergency service providers.
Spacetalk Ltd. (ASX:SPA) has announced the release of Fall Detection on all Spacetalk LIFE smartphone watches for seniors via a free over-the-air upgrade. Fall Detection is a significant enhancement to Spacetalk LIFE, incorporating breakthrough technology and considerably broadening its use-case and marketability as an assistive device.
ALSO READ: Spacetalk (ASX:SPA) partnership with Telstra ramping sales to customers
Large use-case and marketability
According to the WHO, falls are the second leading cause of accidental injury and deaths. The most vulnerable individuals are seniors aged 65 years and above, who account for most of serious falls. In Australia, falls are the biggest contributor to hospitalised injury cases and a primary reason of injury deaths. According to the Australian Institute of Health and Welfare (AIHW), in 2017–2018, there were 42% of hospitalised injury cases and 40% of injury deaths were due to falls.
While anyone can fall at any location, the need for immediate hospitalisation after a fall is more common in the elderly with over 33% experiencing at least a fall each year.
In 2017-18, falls resulted in:

DO READ: Spacetalk (ASX:SPA) aims to move the needle in smartwatch market with unique products
Breaking new ground as an assistive device: How does the technology work?
Accurate Fall Detection is a complex process that involves real-time analysis of wearer's movement data as well as real-time application of the data to the user's individual anthropometric, medical, and other important personal information.
Spacetalk LIFE devices have built-in intelligent accelerometer and gyroscope sensors, which continuously record and relay data of wearers' movements, speed, and altitude back to Spacetalk servers.
The data is then triangulated in real time with the users' anthropometric, medical, and other critical personal information to determine whether the wearer's current movement should be interpreted as a fall, and if yes, the Fall Detection Alert process gets activated.
The wearer can cancel the Alert process within 30 seconds if they feel all right or the algorithms computed a false fall alert.
All information and data are used in real time to continuously learn and improve the accuracy of the Fall Detection technology.
Updated device firmware and sensor settings are delivered as over-the-air updates to the device to enhance the technology automatically.
Source: SPA Update, 1 June 2021
MUST READ: Spacetalk (ASX:SPA) at the forefront of the fast growing market for kids wearables
LIFE alerts wearers and emergency contacts to ensure "Help is on its way"
Once a fall is detected, Spacetalk LIFE device would vibrate, sound an alarm, and display an alert on the watch face for 30 seconds. The wearer can cancel the alarm within these 30 seconds. If the alarm is not cancelled, the device will SMS an alert to the emergency contacts with the location of wearers and call each emergency contact sequentially.
In case there is no response from the emergency contacts, the device contacts emergency services (000) or the third party 24/7 emergency responders. After successfully contacting emergency responders, Spacetalk LIFE device shows a confirmation message to the wearer for 10 seconds to provide assurance to them. The watch then displays the Medical ID functionality for emergency responders to view the relevant medical and other critical details of the user to inform treatment.
DID YOU KNOW: Spacetalk (ASX:SPA) approved as an NDIS registered provider
Source: SPA Update, 1 June 2021
Spacetalk closely worked with aged/home care, NDIS and 24/7 emergency services providers to develop the technology and ensure their systems can digitally receive the relevant information and location of wearers in the event of an emergency or a fall.
View how it all works here - VIDEO
Spacetalk Founder and CEO Mark Fortunatow said:
Predictive analytics
The ground-breaking technology incorporates real-time data collection and triangulation, artificial intelligence (AI), and machine learning which establish the groundwork for the potential capabilities of the device to monitor behaviour. This will continually enhance the high accuracy of the device in real time as more individuals use it. The watch can also predict the increasing risk of an oncoming fall or other medical condition.
As conceived, this is revolutionary technology and a world-first for devices purpose-built for seniors and people having special needs.
Medical ID functionality
Spacetalk also disclosed that Spacetalk LIFE now has the life-saving Medical ID functionality. The feature provides medical, allergy, and other critical personal information about wearers to the emergency services and healthcare professionals to inform about the treatment course when seconds count.
After an SOS or the Fall Detection procedure has been completed, the device pulses a bright red display to alert and draw the attention of emergency responders to press a button and view the Medical ID of the wearer.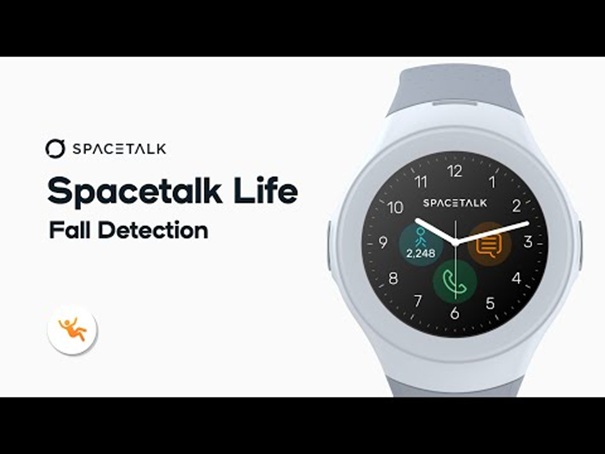 Source: SPA Update, 1 June 2021 (Click to view video)
A simple on-boarding process, including a VIDEO, has been developed, which makes it user friendly to activate these new features.
Spacetalk LIFE smartphone devices in a nutshell
Spacetalk LIFE was first introduced as an all-in-one smartphone watch in June 2020 with GPS for older Australians. The smartphone watch has the capability to support the journey of ageing - enhance independence, healthy living, social connectivity, and safety, while providing reassurance and peace of mind to family and friends. The device has drawn considerable interest from aged/home care providers, the National Disability Insurance Scheme (NDIS) providers and Occupational Therapists (OTs).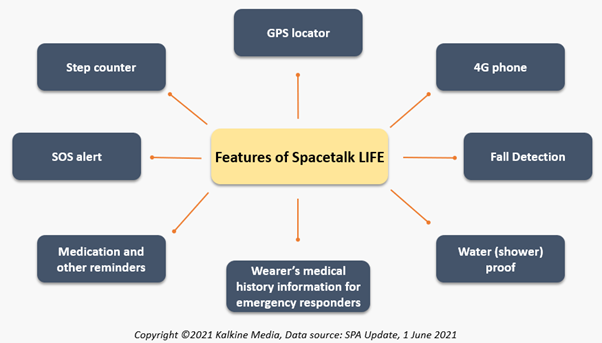 DO READ: Spacetalk (ASX:SPA) opens B2B2C distribution channel with aged care provider on upgraded LIFE smartphone watch for seniors
Mark Fortunatow stated:
To learn more about Spacetalk's smartphone GPS watches and app platform, and the Company, visit: https://www.spacetalkwatch.com/. Investor Centre: https://investors.spacetalkwatch.com/.
On 10 June 2021, SPA shares were trading at AU$0.170, up 6.250% (at 3:37 PM AEST).