Summary

Empire Resources has turned the corner on a difficult and challenging period and identified investment opportunities and successfully capitalised the business.
To date, significantly encouraging discoveries have been made since the direct exploration of Empire projects recommenced in November 2019.
ERL's investment in NTM Gold has grown from $1.5 million in July 2019 to $4.45 million as on 3 November 2020.
ERL plans to continue aggressive exploration across its excellent portfolio.
Exploration and development company, Empire Resources Limited (ASX:ERL), has made impressive progress over 2020 while turning the corner on a difficult and challenging period in its history. This has been made possible through ERL's aggressive efforts for rationalising the cost base, identifying investment opportunities, and successfully capitalising the business.
Since last year, ERL has steadily grown the business by adding value through organic exploration activities as well as by strengthening its investment portfolio.
September Quarter Update: Empire Resources Limited's (ASX:ERL) Progressive Exploration In September Quarter Stems Plans for Further Drilling
ERL Kicks Off Exploration Journey at Yuinmery Project
Exactly a year ago in November 2019, ERL began the direct exploration of its projects with a 3,000m aircore drilling program at the Yuinmery Copper-Gold Project and reported:
Completed 7,461m of aircore drilling, 3,257m of RC drilling
Collected 253 soils auger samples
Captured 756m of downhole electromagnetic data
ERL's exploration efforts have demonstrated success through discovery of broad Cu-Ni-PGM in drilling at new prospect YT01 at Yuinmery and Widespread supergene gold at new prospect PF09 at Penny's.
Related: Empire Resources Reports Significant Results from Drilling Campaigns, Stock Zooms by ~7%
Yuinmery – YT01 Prospect (Source: ASX Announcement 04 November 2020)
Presently, drilling through an aircore rig is continuing at the highly prospective YT01 prospect in hole YRC20-28, where ERL discovered anomalous PGM associated with the copper mineralisation in RC drilling in the current year.
Discoveries at Penny's Gold Project
Other than Yuinmery Project, ERL also identified several high priority gold targets through aircore drilling at the Penny's Gold Project. Out of these, the highly anomalous PF09 prospect is of key interest as recent drilling returned mineralisation in consecutive holes, expanding the footprint of this prospect from 150m to 250m wide.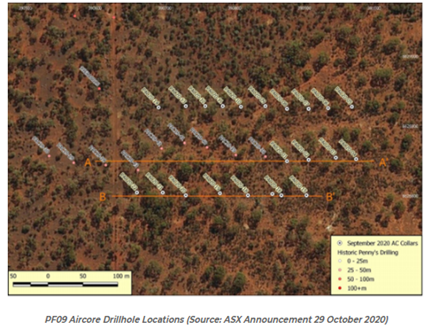 In due course, ERL seeks to continue exploration success across its excellent portfolio of assets.
Related: Empire Resources' Financials Reflect Green Shoots; Exploration Expenditure Increases By 436%
Barloweerie Project (Zn-Pb-Ag-Au-Cu)
ERL was granted a 113km2 exploration licence approximately 155km west of Cue, Western Australia covering parts of the Barloweerie greenstone belt. Historical exploration at this area has detected highly anomalous zinc, lead, silver, gold, and copper mineralisation in a volcanogenic massive sulphide (VMS) setting.
The project area has seen limited modern exploration on Sandford prospects, and an independent geological review is currently pending. Key intercepts at various Sanford prospect areas include the following: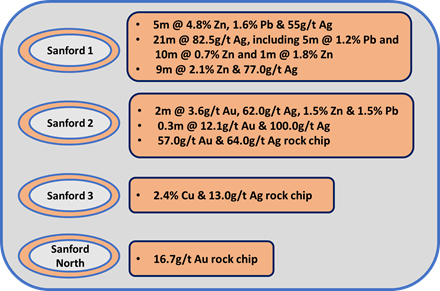 Strong Balance Sheet with Significant Investment in NTM Gold
Over the last 12 months, ERL's balance sheet has also strengthened considerably and reported an after-tax profit of $422,038 for the year (to 30 June 2020) compared to a $1.3 million loss in 2019. The Company's profit is driven by sensible cash management and prudent investment activities.
Talking about investments; ERL's investment in NTM Gold Limited (ASX:NTM), a fellow explorer has grown to around $4.45 million at $0.097 per share (as on 3 November 2020) from $1.5 million initially (July 2019). NTM is a mineral explorer exploring in the Eastern Goldfields of Western Australia and a strategic focus on the Redcliffe Gold Project.
Interesting Read: Empire Resources Limited Calls the Tune in Its Significant Landholdings, A Walk Through Its Project Portfolio
ERL is optimistic that NTM offers a promising opportunity for an emerging gold company through its high-grade Hub Resource, continued exploration success, toll treatment potential and consolidation opportunities.
ERL's placement in August 2020 helped to raise $1.3 million through strong support from sophisticated and professional investors, allowing the Company to continue exploration at its Yuinmery project as well as Penny's Gold project.
Royalty Revenue Expected in Future
Notably, ERL looks forward to royalty revenue over the Penny's Find Gold Mine when Orminex commences operations. Orminex steadily progresses project optimisation, geotechnical design, project permitting and approvals at the project area. ERL has retained 5% gold royalty for the initial 50,000 ounces and following 2.5% gold royalty over the Penny's Find Gold Mine.
Detailed Discussion at: Empire Resources Cracking Crust at Yuinmery Project With Excellent Exploration Results, Secures Funding Through Placement
Moreover, ERL's claim for gold not delivered against Maximus Resources Ltd from the milling of Penny's Find ore at the Burbanks Mill is currently under process and is expected to resolve in the near future.
Overall
From here onwards, ERL seeks to draw benefit from exciting times ahead amid excellent gold and base metal prices as well as the opportunity to establish new momentum for Empire Resources.
On top of this, ERL's experienced team of professionals having exploration, development and financial backgrounds are dedicated to establishing a sustainable as well as profitable mineral business.
Interesting Read: Skimming Through Empire Resources' Progress Since January 2020, Well Funded For Exploration Drilling Across Project Portfolio
ERL seeks to identify value accretive investment opportunities complementing its development objectives while extracting value for various stakeholders from direct exploration in its existing excellent package of highly prospective exploration projects.
Interesting Read: How Is Empire Resources' Investment In NTM Gold Placed Amid Market Volatility?
On 05 November 2020, ERL's share price was quoted at $0.012 with a market capitalisation of $11.81 million.