Highlights

The HUSD stablecoin, issued by Stable Universal, recently lost its peg, with its value dropping to nearly US$0.85
Paxos and Huobi Global were previously involved in the project, however, their present role is not known
On previous occasions, stablecoins like TerraUSD and DEI have failed to maintain their pegs
Stablecoins promise what a regular cryptocurrency cannot -- price stability. Tens of stablecoins are available in the market with most of these pegged to the US dollar. Tether occupies the top spot in the category.
In May 2022, the world of stablecoins suffered a major blow when one of the popular stablecoin assets TerraUSD lost its 1:1 peg and the value of one TerraUSD plummeted to a few cents. This was quickly followed by another stablecoin DEI losing its value and slipping from US$1 to under US$0.6. Now, there are concerns around another stablecoin asset, the HUSD coin.
Let us explore HUSD crypto and understand concerns around it.
What is HUSD stablecoin?
HUSD is pegged to the US dollar, similar to Tether and BUSD stablecoins. However, the market cap of HUSD is very less compared to Tether and BUSD, which are both multi-billion-dollar cryptocurrencies and also feature in the top five crypto list. As of writing, the market cap of HUSD is nearly US$158 million.
More than other figures, the price of HUSD, which should ideally hover close to US$1, is in focus right now. As of writing, the price was comfortably over US$0.99, which meant that the stablecoin was not experiencing any trouble. However, it is also notable that the price had dropped to nearly US$0.85 on August 18. As of writing, there was a big jump in the 24-hour trading volume of the HUSD crypto, which must have supported the price revival over the past day.
Also read: DEI stablecoin loses USD peg after TerraUSD. Why?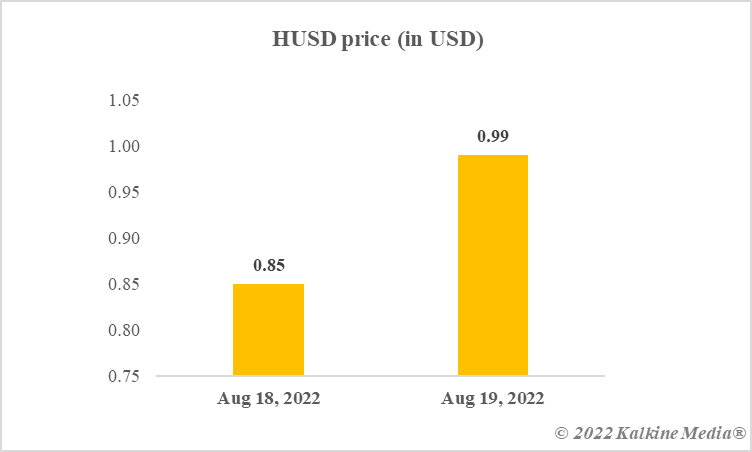 Data provided by CoinMarketCap.com
Who is behind HUSD stablecoin?
In one of the blogs on the website of Paxos Trust Company, it is mentioned that the company had partnered with Huobi (a crypto exchange), and Stable Universal to launch HUSD in 2019. This blog dates back to July 2020, and now, there are concerns that Paxos, which provides custodian services to stablecoin issuers, might no longer be involved with HUSD.
Aside from this, Huobi Global had acknowledged the drop in the value of HUSD via a tweet, but with a mention that the stablecoin is issued by Stable Universal. It is also being said by some quarters that the exchange is also no longer involved with the HUSD stablecoin project.
Also read: Chronoly & Mehracki: Are these presale stage crypto tokens safe?
Bottom line
For now, the HUSD coin has recouped its recent losses to preserve its peg with the USD. There is no certainty over the reason behind the drop in the value. Stable Universal has mentioned on its website that the stablecoin is redeemable at all times for an equivalent value in USD. But reports that Paxos and Huobi are no longer a part of the HUSD project can make enthusiasts concerned.
Risk Disclosure: Trading in cryptocurrencies involves high risks including the risk of losing some, or all, of your investment amount, and may not be suitable for all investors. Prices of cryptocurrencies are extremely volatile and may be affected by external factors such as financial, regulatory, or political events. The laws that apply to crypto products (and how a particular crypto product is regulated) may change. Before deciding to trade in financial instrument or cryptocurrencies you should be fully informed of the risks and costs associated with trading in the financial markets, carefully consider your investment objectives, level of experience, and risk appetite, and seek professional advice where needed. Kalkine Media cannot and does not represent or guarantee that any of the information/data available here is accurate, reliable, current, complete or appropriate for your needs. Kalkine Media will not accept liability for any loss or damage as a result of your trading or your reliance on the information shared on this website.