Highlights

Bitcoin and Ether are up, but some other altcoins are rising more sharply at the moment
Komodo crypto, which enables interoperability over chains, is about to play a role in NFTs
PARSIQ crypto, of which Tsunami API is the key offering, talks about data services in Web 3.0
Cryptocurrencies can now be a mixed bag at any particular time. This is because the number of assets has grown rapidly over the past couple of years. CoinMarketCap, which tracks price data, now has over 20,000 assets listed. Not all these assets gain or lose value concurrently.
As of writing, two cryptocurrencies, Komodo (KMD) and PARSIQ (PRQ) are registering better gains than most others, including Bitcoin. Let us explore the two altcoins to understand why they are rising at the moment.
Komodo (KMD)
Komodo describes itself as a "multi-chain architecture", which supports decentralised solutions including smart contracts. It boasts interoperability of any project built on Komodo with other chains. The flagship product of Komodo's ecosystem is AtomicDEX, which it describes as a "non-custodial" wallet for cryptoassets. AtomicDEX, as the name suggests, has decentralised operations.
Komodo's native token is KMD, and as of writing, it has appreciated almost 70% over the past 24 hours. The market cap of Komodo crypto is over US$45 million and the price per token is over US$0.35 as of now. The 24-hour trading volume has soared nearly 2,000%.
One probable reason why Komodo crypto is gaining is the news around the use of Komodo's tech by blockchain players Vleppo and Tokel for making NFT rights "legally enforceable". This will be done by creating digital contracts for NFT owners, it is said.
Also read: Who is Miss Teen Crypto? Can influencers be followed blindly?
PARSIQ (PRQ)
The PARSIQ ecosystem provides backend data services to market participants in Web 3.0. The flagship product is Tsunami API, which helps in data querying, both real time and historical, it is claimed.
PARSIQ's native token is PRQ, which registered a sharp rise nearly a week ago. Another surge is underway and the PRQ token is up almost 70% as of writing. The price per token is over US$0.2, and the market cap is over US$35 million.
The token's rise is likely fueled by anticipation around its "Data Hubs", which might have a crucial role to play in Web 3.0. Many Web 3.0 projects are being launched currently, and PARSIQ might help with data management and accessibility tasks.
Also read: What is Voyager (VGX) crypto and why is it up 100%?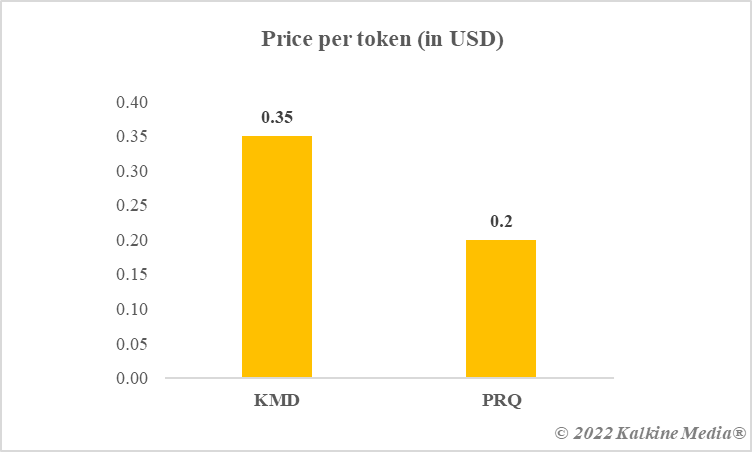 Data provided by CoinMarketCap.com
Bottom line
The two cryptos mentioned above are among the top 500 cryptocurrencies and are gaining at the moment. Both Komodo and PARSIQ cryptos have had a largely positive price movement over the past few weeks. The ongoing surge in prices of both is due to different factors, and how long it lasts, cannot be predicted.
Risk Disclosure: Trading in cryptocurrencies involves high risks including the risk of losing some, or all, of your investment amount, and may not be suitable for all investors. Prices of cryptocurrencies are extremely volatile and may be affected by external factors such as financial, regulatory, or political events. The laws that apply to crypto products (and how a particular crypto product is regulated) may change. Before deciding to trade in financial instrument or cryptocurrencies you should be fully informed of the risks and costs associated with trading in the financial markets, carefully consider your investment objectives, level of experience, and risk appetite, and seek professional advice where needed. Kalkine Media cannot and does not represent or guarantee that any of the information/data available here is accurate, reliable, current, complete or appropriate for your needs. Kalkine Media will not accept liability for any loss or damage as a result of your trading or your reliance on the information shared on this website.