What are Penny stocks?
Penny stocks are the stocks that trade at a price which is extremely low. Typically, they bear very low market capitalisation and are most likely to be illiquid. Usually, penny stocks are listed on a smaller exchange.
Penny stocks are highly speculative and are measured as extremely risky since liquidity lacks in them and contain shareholders of smaller bunch. These stocks comprise of large bid-ask spreads and practice limited disclosure of information.
Penny stocks can be referred to as higher risk small-cap stocks. Even though they pertain more risk and volatility when compared to the blue-chip shares, the acquaintance with small caps and their upside could prove to be of good value for an investor's portfolio.
Considering the status of these stocks in the recent times, according to market experts, small-cap and growth stocks had been hit hard with the market correction towards the end of 2018. Prices are much lower than they were in mid-2018. With valuations well off its highs, ample opportunities are present in the market that could be seized.
Key drivers of Penny Stocks:
Below are three main drivers of Penny stocks that should be considered by investors:
Foremost and technically, forecasting small cap stocks is challenging as they lack liquidity, keeping investors at bay. They are also surrounded with investment mandates. Hence, these stocks trade less on logic and more on rumours.
Secondly, understanding the macroeconomic forces in the medium-term is an essential element. The various dimensions of these forces aid in understanding the market drive. Few of these factors include consumer sentiment, interest rates and government procedures. Penny stocks specifically are not too impacted by these factors as they are more valued on speculation of earnings and less on the present earnings. However, these factors would aid in tapping the most apt investment.
Thirdly, fundamentals play a key role in the long run. Fundamental analytics help in understanding the assumptions and valuations that would be made before investing. Few factors include ROE, earnings growth, competition, political surrounding and profit margins.
An amalgamation of these three drivers would be helpful in picking the apt penny stock, if one were to invest in the same.
6 Penny Stocks on ASX:
Neurotech International Limited:
A medical device and neuro solutions provider, Neurotech International Limited (ASX: NTI) focusses on improving lives of patients suffering from neurological conditions. Its first flagship medical device is the Mente Autism.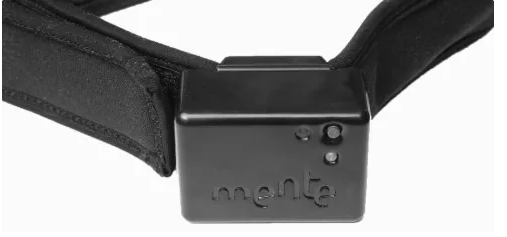 Mente headband (Source: Company website)
The company launched a pilot version of the Mente Clinic on 5th June 2019. This is the medium to connect clinicians and patients on a virtual forum. It can be accessed through www.menteclinic.com.
The company had also launched its Early Adopter Program across regions for the device to be used. Apart from this, a Mente iOS application is available too.
As per the its quarterly report for the period ending 31st March 2019, the company's highlight was the launch of the e-commerce forum. Besides this, the device got registered as a neurofeedback device in the US.
NTI's half-yearly report for 6 months ending 31st December 2018 was released earlier in February this year. Below is a highlight of its recorded financials: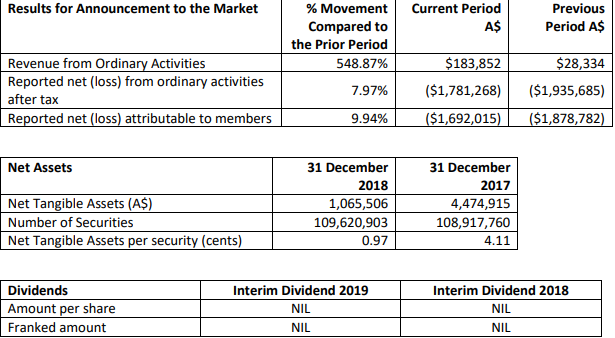 (Source: Company's report)
On the technical front, the stock of the company last traded at A$0.023, soaring up by 64.286% on ASX (as on 5th June 2019).
Fremont Petroleum Corporation Limited:
Founded in 2006 and with its Australian office located in Sydney, Fremont Petroleum Corporation Limited (ASX: FPL) is producer and developer of Oil & Gas. It also has an office in Florence, Colorado, USA.
On 5th June 2019, the company announced that the Amerigo Vespucci #1 well had intersected crude oil. Of the total 199 joints of drill string, 154 of them were covered in crude oil. This totalled 1408.17 metres. An extensive electronic logging program was en route to analyse the 4 benches of the Niobrara Formation and delve deep to the Codell and Greenhorn formations. Post this, geophysical and petrophysical analysis would be concluded.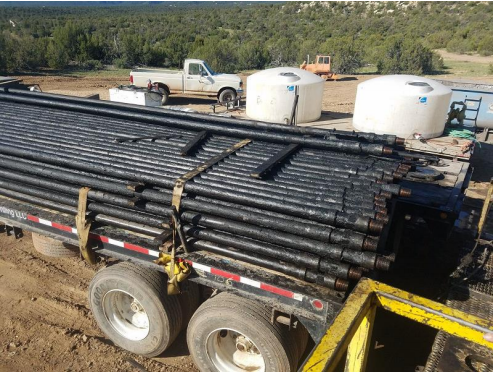 Amerigo Vespucci #1 Well covered in oil
Also, the company notified on 27th May that Independent Laboratory analysis results had been received from the J.W. Powell #23-25 well regarding hydrocarbons. The well was producing a quality light, sweet crude with an API gravity of 34.8 and calorific value of 1,201 BTU.
On the technical front, the stock of the company last traded at A$0.012, soaring up by 20 % on ASX (as on 5th June 2019).
88 Energy Limited
An Oil & Gas production and exploration company, 88 Energy Limited (ASX: 88E) has the main operations in Alaska- Project Icewine, Western Blocks and Yukon Gold.
The Yukon Gold leases (Source: Company's report)
Recently, the company provided an update on the oil and gas operations on the North Slope of Alaska. In the Project Icewine Conventional, the Third-party due diligence process was almost done, and the final decision is scheduled for June 2019, post receiving the approval. In the Project Icewine Unconventional, Formal farm-out process were deferred until 2H 2019. Besides this, the Yukon Leases were undergoing discussions related to the monetisation strategy. On the Western Blocks, aggregation of additional data was ongoing.
On the corporate side, as per 88E's quarterly release for the quarter ending 31st March 2019, the Exploration and evaluation expenditure totalled A$8.3 million. Payments related to the debt facility interest totalled A$0.6 million, whereas the Admin and other operating costs amounted to A$0.6 million.
On the technical front, the stock of the company last traded at A$0.017, up by 13.333% on ASX (as on 5th June 2019).
Aurora Minerals Limited
Perth based, Aurora Mineral Limited (ASX: ARM) spreads across three continents with investment in gold development. Presently, ARM has a 21.9% shareholding in Predictive Discovery Limited (ASX: PDI). The company has gold assets in the Birimian greenstone belts in West Africa, Cote D'Ivoire, Mali and Burkina Faso.
Investment spread (Source: Company's report)
On 4th June 2019, the company notified on the Ferkessedougou North gold project. A nine-hole diamond drilling project that was completed at the Ouarigue South prospect of the gold project depicted high-grade intervals and thick gold intercepts in an open to the south and at depth prospect.
ARM released its Quarterly report on 26th April 2019. On the corporate side, the cash at bank was approximately $0.97 million (parent) at end of March 2019. The Value of cash and investments was approximately $2.7 million (almost 2.3 CPS).
On the technical front, the stock of the company last traded at A$0.017, down by 22.727 % on ASX (as on 5th June 2019).
Artemis Resources Limited:
A diversified mineral developer, Artemis Resources Limited (ASX: ARV) has a wholly owned Radio Hill plant and has headquarters in Perth. The company develops base metals in Pilbara region for production.
On 29 May 2019, the company notified about an update on the Purdy's Reward Conglomerate Gold Project which is being managed by Novo Resources Corp. A mineralisation report had been completed and would be used to get approvals for a large sampling of a total up to 100,000 tonnes. Novo is currently conducting trials for Mechanical ore sorting to assist with grade estimation at the Beatons Creek and Egina Projects. This is expected to be reflected at the Purdy's Reward and Comet Well after the system is operational. Exploration at Purdy's Reward (north east) would remain active in winter field season in 2019.
Comet Well and Purdy's Reward tenement map (Source: Company's report)
On 24th May 2019, the company notified its shareholders that it would have a variation to the funding package Riverfort Global Capital Limited. At that point in time, the outstanding balance under the funding package was approximately A$6.7 million.
On the technical front, the stock of the company last traded at A$0.017, down by 22.727 % on ASX (as on 5th June 2019).
Broken Hill Prospecting Limited:
An exploration company aiming at development and discovery of strategic mineral resources across the Murray Basin Region and the Broken Hill Region, Broken Hill Prospecting Limited (ASX: BPL) is headquartered in Sydney. It has a commodity exposure of Heavy Mineral Sands, Cobalt, Base & Precious Metals and Industrial Minerals.
The company presented itself at the Resources Round up Conference in Sydney on 7th May 2019. It stated that the 2018-2019 field season in the Broken Hill Region had been adversely affected by the ongoing severe drought conditions. However, the region had a lot high quality, underexplored prospects, with great base metal potential. The New regional Curnamona exploration strategy evolving includes the IOCG styles for the region.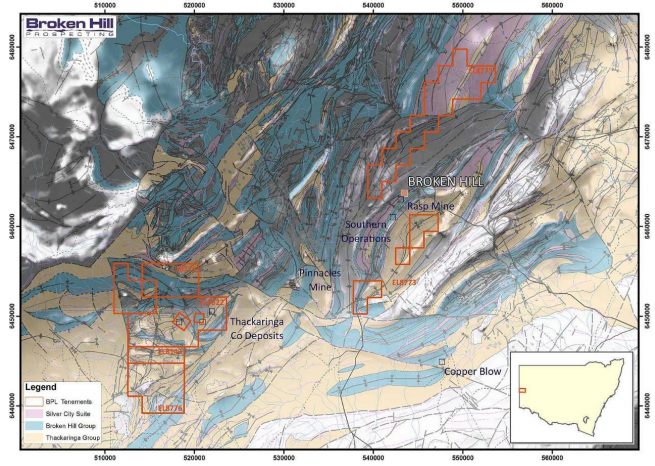 The Broken Hill region (Source: Company's report)
The Thackaringa Cobalt Project is a joint venture of the company with Cobalt Blue (ASX: COB). It has good infrastructure and pro-mining local community and receives government aid as well.
The company was applying New HMS business model to the Murray Basin, which is the Largest tenement portfolio. The focus on this area is towards high-grade, low-tonnage, shallow deposits with high value of mineral assemblage.
The below table provides the cash flow highlights of the company, from its quarterly report for the period ending 31st March 2019:
On the technical front, the stock of the company last traded at A$0.024, up by 26.316 % on ASX (as on 5th June 2019).
Listed below are few other penny stocks pertaining to the Australian stock market:
All pictures are copyright to their respective owner(s).Kalkinemedia.com does not claim ownership of any of the pictures displayed on this website unless stated otherwise. Some of the images used on this website are taken from the web and are believed to be in public domain. We have used reasonable efforts to accredit the source (public domain/CC0 status) to where it was found and indicated it below the image.
There is no investor left unperturbed with the ongoing trade conflicts between US-China and the devastating bushfire in Australia.
Are you wondering if the year 2020 might not have taken the right start? Dividend stocks could be the answer to that question.
As interest rates in Australia are already at record low levels, find out which dividend stocks are viewed as the most attractive investment opportunity in the current scenario in our report.
CLICK HERE FOR YOUR FREE REPORT!