The recent rebound in the oil prices has caused various energy stocks to outperform in equity markets. In Europe and US, the energy sector was the clear outperformer in the recent trade. In Australia, the S&P/ASX 200 Energy (Sector) index rose by over 2.5% on Friday, 24 March 2020. Energy companies like Woodside Petroleum Ltd (ASX: WPL) and Oil Search Limited (ASX: OSH) were also up on ASX that day. The rebound in oil prices has been the clear catalyst. Let us have a closer look at these energy stocks and they have performed lately.
Woodside Petroleum Ltd (ASX: WPL)
WPL is Australia's s leading LNG operator, engaged in exploration, evaluation and development of hydrocarbon. The stock of Woodside Petroleum Ltd, an Australian energy company, went up by 1.8% on last Friday. Woodside has entered the current period of market volatility in a strong financial position with cash on hand of $4.9 billion and total liquidity of $7.9 billion as at 29 February 2020.
The company expects global oil prices to be volatile at least in the near-term. In order to increase revenue certainty in the future and decrease the exposure to potential further downside, the company has hedged 11.85mmboe of oil between April and December 2020 @ average price of $33.47/barrel and has also agreed with a customer to fix the price of around 2.4 million boe of LNG production over the same period, to further increase revenue certainty.
In order to tackle the impact of COVID-19, the company is implementing strategies to reduce the risk of transmission of COVID-19 to Woodside's people, contractors and communities and its potential impact on Woodside's business and in addition to this, the company is also making changes to its 2020 work plan resulting in an around 50% reduction in forecast 2020 total expenditure.
WPL has recently revised its FY20 investment expenditure guidance to US$1,700 – US1,900 million. The company's total production during FY20 is expected to be in the range of 97 MMboe – 103 MMboe. WPL recently informed that its total production in Q1FY20 totaled at 24.2 MMboe, up 12% on the previous corresponding period (pcp). During the quarter, the company's sales volume as well as its sales revenue were impacted by reduced trading activity and lower prices.
During the quarter, WPL also made solid operational progress on its near-term growth projects taking FID on Sangomar Field Development Phase 1 in Senegal and the North West Shelf's Greater Western Flank Phase III and it also made significant execution progress on Pyxis Hub and Julimar-Brunello Phase II.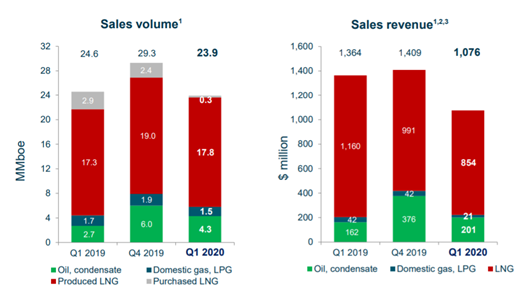 Sales Volume and Revenue Summary (Source: Company Reports)
In the last there months, the stock of WPL has decreased by around 42.47%, and is trading near to its 52 week low price.
Oil Search Limited (ASX: OSH)
Oil and gas production company, Oil Search Limited has witnessed an uplift of 4.4% during Friday's trade. For the quarter ending 31 March 2020, the company reported total production of 7.37 mmboe up 5% on last quarter, supported by a continued strong performance from PNG LNG, which produced at an annualised rate of 8.7 MTPA, and a 43% increase in operated production. For the quarter, the company reported total sales of 6.87 mmboe, -13% on last quarter. The company has recently taken swift steps to ensure that it is in the strongest position possible to weather a potentially protracted period of global disruption and in response to the sharp decline in global oil prices in March 2020, it undertook decisive action to strengthen its balance sheet as well as to increase liquidity. In addition, the company has cut its investment expenditure for 2020 by round 40%, via suspending or deferring discretionary activities not related to safety, value or reliability.
The company recently completed its placement to institutional investors and the institutional component of its 1 for 8 accelerated pro-rata non-renounceable entitlement offer of new ordinary shares in Oil Search, raising approximately A$1,080 million. These proceeds will be used to reduce costs and manage the potential impacts of COVID-19. In addition to this, the proceeds will also help the company in withstanding a prolonged period of low oil prices.
On 22 April 2020, the company announced that it has received the acceptance of 9,612,322 entitlements for the retail component of its accelerated non-renounceable pro-rata entitlement offer of fully paid ordinary shares in Oil Search. The Retail Entitlement Offer is scheduled to close on 27 April 2020 at 5:00pm Sydney time. The proceeds of the Retail Entitlement Offer will be used to strengthen the company's balance sheet and increase liquidity, so that it can withstand a prolonged period of low oil prices. OSH intends to hold its Annual General Meeting on 1st May 2020.
The company expects its FY20 full year production to be in between 27.5 – 29.5 million boe, assuming no business interruption from COVID-19 and it is targeting at least a US$1-2/boe reduction in production costs through the review, prior to implementation costs.
OSH is of the view that it is in a robust position to withstand a sustained period of low oil prices, and is undertaking further measures to drive down breakeven costs across its business, targeting a reduction in production costs of US$1– 2/boe, and to enhance its capital management programs, which will ensure that it is in a good position to progress its world-class growth projects in Papua New Guinea and Alaska when market conditions improve. In the past three months, OSH's share price has declined by around 65.26% and is currently trading near to its 52 weeks low price. By AEST 12:14 PM today, OSH stock was trading at A$2.590 with a market cap of around A$5.32 billion.