Amid improvements in the auction clearance rates, free-fall of the Australian house prices and predictions of a rebound in the Australian property space, the nation's economy has witnessed a numerous ups and mostly downs in its property space. However, with the reporting season continuing, market experts and investors are closely awaiting the earning releases and future momentum of the real estate sector.
In this article, we would browse through the latest updates on five real estate stocks, listed and trading on the ASX, and have a look at the performance of their respective stocks.
McGrath Limited (ASX: MEA)
Sale of Property: With a market presence in New South Wales, Queensland and the Australia Capital Territory, MEA has grown to become a successful residential real estate group. The company was a hot topic of discussion in Australia recently, after its CEO Geoff Lucas along with his spouse Nicola sold their Cremorne waterfront home in Sydney, amid rising buoyancy, for over $6 million.
In our recent article on Property sales, we mentioned that Sydney had 391 properties auctioned in the last week of July 2019 (preliminary clearance rates of 78.48 per cent) and Melbourne had the largest number of properties listed for auction, 546 of which had a clearance rate of 74.02 per cent.
FY19 Trading Update: Notified on 14 June 2019, the company had signalled further losses in Q419 period, if the weakening of the property sector prevailed in Australia. In March 2019, MEA recorded an underlying EBITDA loss of $4.5 million for the 8 months period till February 2019. The full year EBITDA loss is likely to range between $6 and $6.5 million for the year ended 30 June 2019, the result for the period would be announced on 26 August 2019.
Quattro Plus Real Estate (ASX: QPR)
Quarterly Report: With its focus on retail and office properties with quality tenants, QPR was listed on ASX in 2005. On 31 July 2019, the company released its quarterly cash flows statement for the quarter ended 30 June 2019. The below table highlights the details of the same, compared with the details of the March quarter:
| | | |
| --- | --- | --- |
| Particulars | Amount in June 2019 (A$'000) | Amount in March 2019 (A$'000) |
| Net cash used in operating activities | 243 | 65 |
| Net cash used in investing activities | 2,447 | 1,811 |
| Net cash from/ (used in) financing activities | 1,485 | (2,940) |
| Cash and equivalents at the end of the quarter | 1,039 | 2,252 |
| Estimated cash outflows for next quarter | 550 | 450 |
Half Year Results: On 28 February 2019, QPR released its half-yearly report for the period ending 31 December 2018, stating that it had acquired three new value add waterfront properties in the Viaduct for NZ$28 million at an initial yield of 10.2 per cent. A capital raise of $56 million repaid the Alceon investment facility raising additional equity and reducing the gearing to 48 per cent. QPR had an average debt term of 2.7 years with BNZ in NZ and Voya in the U.S.
Tian An Australia Limited (ASX: TIA)
One of the Australia's oldest listed property developers, TIA was previously called Port Bouvard. The company taps the key markets on the west and east coasts of the country.
Annual Report 2018: On 29 April 2019, TIA released its Annual Report for 2018 stating that it reported an underlying loss after tax noted at $2.13 million and a statutory loss after tax stood at $14.9 million the period, driven by the write downs for Cascade Gardens, Oceanique and Lot 370 and Dawesville WA projects. The revenue from continuing operations stood at $2.97 million. The net assets of the company on 31 December 2018 were of $109.23 million.

Financial Snapshot (Source: TIA Report)
Despite the property pressure scenario in Australia, TIA successfully sold its SeaSpray in Victoria and The Milton in Queensland projects in the volatile year, allowing it to reinvest in Enfield in NSW and a joint venture in Pymble in NSW. On the Board enhancement front, TIA on-boarded Mr Peter Curry as a Non-Executive Director during the period.
Board Restructure: On 1 April 2019, TIA had appointed Mr Peter Brown as the new Independent Non-Executive Chairman. Also, Mr Jally Lin retired as CEO, post which, Mr Hai-Young Lu was appointed as COO.
Kingsland Global Limited (ASX: KLO)
Originating from The Kingsland Singapore Group, Kingsland Global is the holding company of entities operational and incorporated in Malaysia and Cambodia, with a vision to expand its property development expertise in Laos, Taiwan, Cambodia and Vietnam.
Annual Report for FY18-19: On 30 July 2019, KLO released its Annual report for FY18-19. The company achieved a milestone in the form of sale of One18 Residences to Max Credit Pawn Pte Ltd for USD29 million, generating a profit of USD8 million for the project. The post-tax earnings of the company were S$5.5 million, and the revenue was reported at S$34.6 million. KLO had net asset worth S$29.8 million in its kitty by the end of the period. The year was full of winning awards, as the company bagged the titles of Best Serviced Apartment, Best Data Centre Development and Best Boutique Developer, to name a few.
Further, KLO's Global ITMH Data Centre in Cambodia was shaping up well, with the completion rate at 90 per cent as noted in June 2019. The Phnom Penh City Centre in Cambodia was targeted to be completed by Q219 period.
Share Sale Agreement: On 12 June 2019, KLO notified the market that it had entered into a share sale agreement with Vivaz Group Holdings Pte Ltd to sell its 25 per cent interest in the Lumiere Hotel, for USD4,000,000. Post the agreement, as mentioned in the release, Vivaz's holding of 75 per cent stake in the hotel was to increase to 100 per cent. The sale was due to complete on or before 31 July and the amount obtained would be used to fund development of the Phnom Penh City Centre project and working capital.
Hudson Investment Group Limited (ASX: HGL)
Bowen Hills PDA Scheme: With its focus on industrial commercial property development, HGL is headquartered in Sydney and was listed on the ASX in 1994. On 28 June 2019, the company's subsidiary Hudson Bowen Hills Pty Ltd notified that the Bowen Hills Priority Development Area or PDA, Development Scheme amendment No. 2 finally had the nod of the Minister for Economic Development Queensland and had been adopted on 21 June 2019. The PDA, which is an urban area has a vital role in Brisbane's future growth and development.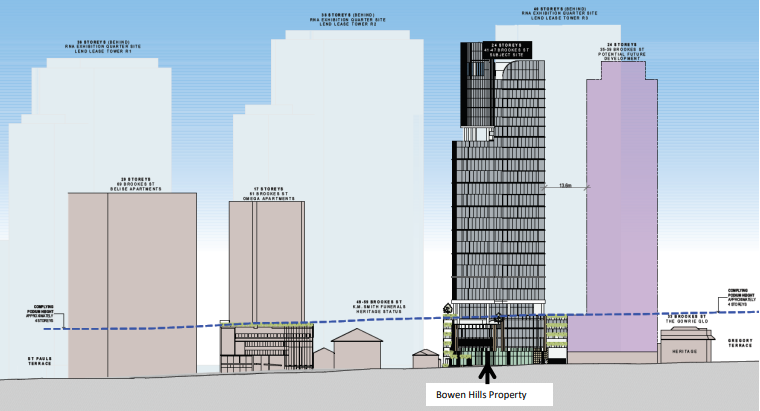 Conceptual Architectural Design (Source: HGL's Report)
New On Board: On 4 June 2019, the company notified that it had appointed Wei Huang as an Executive Director, who was HGL's COO prior to the appointment.
Let us now look at the performances of the stocks under discussion, by the closure of the trading session on 5 August 2019, and their respective YTD returns.
| | | | |
| --- | --- | --- | --- |
| Company Name | Stock Value (A$) | Stock Performance (%) | YTD Return (%) |
| McGrath Limited (ASX: MEA) | 0.195 | Down by 2.5 | -31.03 |
| Quattro Plus Real Estate (ASX: QPR) | 0.950 | Flat | -5 |
| Tian An Australia Limited (ASX: TIA) | 0.450 | Last traded on 12 July 2019 | -25.62 |
| Kingsland Global Limited (ASX: KLO) | 0.080 | Last traded in July 19 2019 | -15.79 |
| Hudson Investment Group Limited (ASX: HGL) | 0.515 | Last traded on 22 July 2019 | 39.19 |
---
Disclaimer
This website is a service of Kalkine Media Pty. Ltd. A.C.N. 629 651 672. The website has been prepared for informational purposes only and is not intended to be used as a complete source of information on any particular company. Kalkine Media does not in any way endorse or recommend individuals, products or services that may be discussed on this site. Our publications are NOT a solicitation or recommendation to buy, sell or hold. We are neither licensed nor qualified to provide investment advice.