Housing market is among the most important topics of discussion in Australia. The market has seen several ups and downs in the recent times, witnessing adverse impacts of a sluggish economic growth during 2019.
However, it seems that the housing market has started to show a sign of a turnaround, with recent data from property market analyst, CoreLogic, showing some improvement (an increase of 3.6%) in home prices in the month of July 2019 over pcp. Additionally, the analysts forecast depicts a 5.4% year-on-year increase in the prices of national homes for July 2020. The recent uptick in property prices across the country is being attributed to lower mortgage rates, loosening lending standards and improved consumer sentiments.
Below discussed are three companies that are part of the residential property market and have delivered positive returns to their investors during the last six months and year-to-date. All the companies have recently released their financial results for FY19. Two of these companies - Mirvac Group and Stockland – have also paid out dividends throughout the year and have a good annualised dividend yield, while the third - Simonds Group Limited has an attractive PE multiple.
Let us have a look at these companies' performance during the last year and outlook for the coming year.
Mirvac Group
Diversified property group, Mirvac Group (ASX: MGR) holds around 45 years of experience in the market, developing and delivering residential projects and commercial assets that are innovative and are of high-quality. Office & industrial, retail and residential are the three major segments, under which the company performs its activities. The company majorly caters to clients in the Australian cities of Sydney, Melbourne, Brisbane and Perth.
The company recently released multiple notifications regarding the change in interest of directors. The concerned directors are Peter Stanley Nash, Samantha Joy Mostyn and Susan Lloyd-Hurwitz.
Mirvac Group's market capitalisation stands at around AUD 11.96 billion, with ~ 3.93 billion shares outstanding. On 13 September 2019, the MGR stock closed the day's trading at AUD 3.090, up 1.64% by AUD 0.050. Besides, the stock has delivered positive returns of 38.18% YTD and 13.86% in the last six months. The annual dividend yield of the stock stands at 3.85% to date (as per ASX).
FY19 Result Highlights:
Mirvac Group reported a solid operating performance as well as a strong set of metrics for the year ended 30 June 2019 (FY19), delivering AUD 1,019 million in profit attributable to the stapled securityholders, compared with AUD 1,089 million in FY18. The company's operating profit after tax stood at AUD 631 million at the end of the financial year 2019, up from AUD 608 million reported during the same period a year ago.
Residential Business Highlights:
During FY19, 2,611 residential lots were settled, surpassing the target of over 2,500 residential lot settlements for the year;
More than 1,280 residential lots were released (new and existing projects);
Gross development margins reported at 27%;
Entered a deal with Boral for a quarry site development.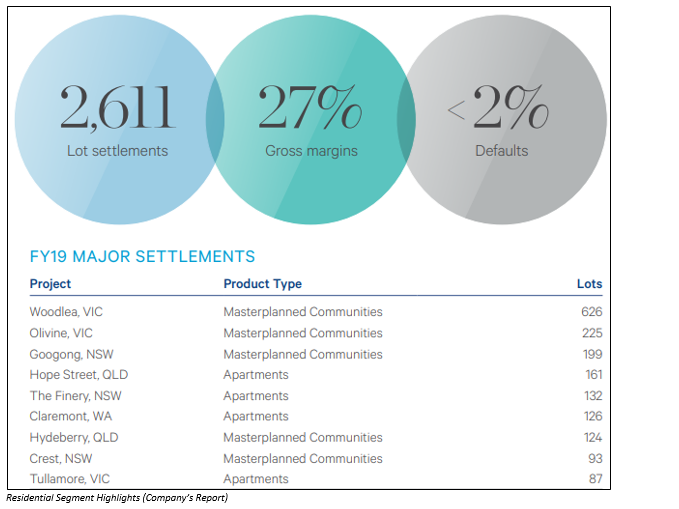 MGR also paid distributions of 11.6 cents per stapled security during the year, marking an increase of 5% over the same period a year ago.
Outlook:
During FY20, the company is expecting to register operating EPS in the range of 17.6 cents to 17.8 cents per stapled security, which represents an increase in earnings of 3-4%. Additionally, Mirvac has given a distribution guidance of 12.2 cents per stapled security, which represents DPS growth of 5%.
Stockland
Established in 1952, Stockland (ASX: SGP) is a diversified property group, serving as the owner, developer and manager of properties such as residential communities, living space of retirees and retail town centres. The company has the vision of becoming a great real estate player in the Australian property market and making valuable contributions towards the country.
Stockland's market cap is around AUD 10.59 billion and the SGP stock closed the day's trading on 13 September 2019 at AUD 4.430, with approximately 2.38 billion outstanding shares. The SGP stock has generated positive returns of 28.70% YTD and 19.35% in the past six months. In addition, Stockland also has an annual dividend yield of 6.22% to date (as per ASX).
Continuation of On-Market Buy-Back:
Recently on 5 September 2019, the company unveiled the continuation of its on-market security buy-back programme announced to the market on 6 September 2018, under which SGP plans to buy-back its securities on issue worth AUD 350 million. The on-market security buy-back continuation highlights the company's commitment towards managing its capital actively.
The buy-back programme would either continue until 20 September 2020 or till the company completely acquires the securities on issue. SGP has bought-back and cancelled more than 50.12 securities for a total consideration of approximately AUD 192.36 million, as at 4 September 2019.
FY19 Result Highlights:
For the year ended 30 June 2019, the company reported that the results are in line with market expectations despite challenging market conditions. Major highlights during the period are as follows:
Funds from operations (FFO) went up by 4.0% to AUD 897 million, representing strong performance in residential and workplace and logistics businesses;
FFO earnings per security grew by 5.1% to 37.4 cents;
Statutory profit reached AUD 311 million, down 69.6%;
Residential operating profit grew by 8% to AUD 362 million.
Non-cash adjustments due to devaluations in the company's retail town centre and retirement living portfolios, in addition to a retirement living goodwill write down, mark-to-market on financial instruments and a tax expense change impacted the FY19 statutory profit.
Additionally, the company's distribution per security (DPS) grew by 4.2% year-on-year to 27.6 cents.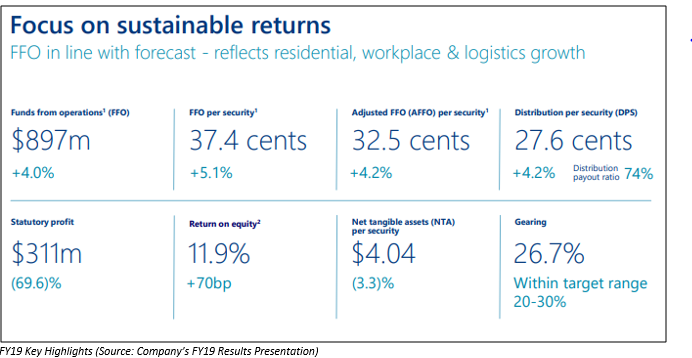 Outlook:
Stockland is expecting to deliver more than 5,000 residential settlements in FY20, with residential profit margins expected to be around 19%. Additionally, retail FFO is anticipated to stablise through FY20 and retirement living FFO is likely to register moderate growth. As a result, the company is expecting flat growth in FFO per security in FY20.
Simonds Group Limited
Simonds Group Limited (ASX: SIO) is a designer and builder of residential dwellings. The company operates through two divisions: Simonds Homes, which is serving the Australian homebuilding market since 1949 and specialises in single and double storey detached homes. The other division of the company is Builders Academy Australia (BAA), which offers qualifications in the field of building and construction that are nationally accredited.
With a market cap of AUD 53.94 million and approximately 143.84 million outstanding shares, the stock of SIO closed the day's trading at AUD 0.375 on 13 September 2019, trading flat. The stock has delivered positive returns of 10.29% YTD, 5.63% in the last six months and 17.19% in the last three months. The PE multiple of the stock is 5.230x.
FY19 Result Highlights:
Recently, the company released its results for the financial period ended 30 June 2019. During the reported period, the homebuilder continued to lift its performance and strengthen its financial position. Simonds Group delivered a significantly improved operating result in FY19 and stabilised the business for creating a solid platform that would help the company in attaining sustainable growth for the business in coming years.
Revenue for the period stood at AUD 687.7 million, representing a 13.6% year-on-year increase from AUD 605.2 million reported in FY18. Growth in revenue was driven by higher site starts and changes in product mix that included a focus on two storey builds. The company's net profit after tax (NPAT) from continuing operations for FY19 was reported at AUD 11.7 million, up 143.8% from AUD 4.8 million in FY18, on the back of improved operating results. Cash and cash equivalents at the end of the year were reported at AUD 9.7 million.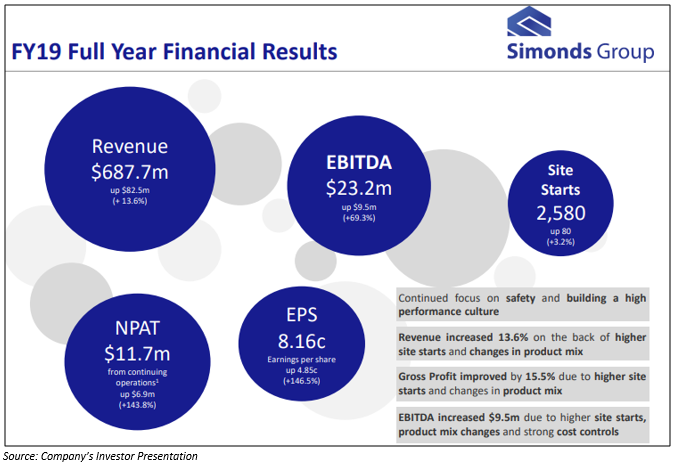 Segment-wise Results:
Simonds Homes:
Revenue grew by 14.1% to AUD 676.9 million;
EBITDA went up by 53.5% to AUD 21.8 million;
2,580 site starts, representing an increase of 80 site starts on pcp, backed by strong pipeline and focus on consistent site starts every week;
Total display homes stood at 11, down from 117 in FY18.
Builders Academy Australia:
Revenue stood at AUD 10.2 million, down 8.9% year-on-year;
EBITDA grew by 50% to AUD 1.2 million;
Course enrolments stood at 1,830, up 8.5% on pcp;
Existing funding contracts with state government and federal government retained;
Delivery in apprenticeships and other areas increased.
Outlook:
Simonds Group is expecting to register a decline in its housing starts in line with the overall industry outlook for the financial year 2020, which stands at a decline of 10-15%. Meanwhile, the company plans to continue to look for opportunities in its education business.
---
Disclaimer
This website is a service of Kalkine Media Pty. Ltd. A.C.N. 629 651 672. The website has been prepared for informational purposes only and is not intended to be used as a complete source of information on any particular company. Kalkine Media does not in any way endorse or recommend individuals, products or services that may be discussed on this site. Our publications are NOT a solicitation or recommendation to buy, sell or hold. We are neither licensed nor qualified to provide investment advice.