Exploration stocks has delivered healthy returns for investors. The investors are finding value in different minerals like lithium, zinc, gold etc. We have covered five stocks from the Exploration segment.
Desane Group Holdings
Desane Group Holdings (ASX: DGH) is associated with property investment and development projects based in Sydney, Australia. The company ranks among the top property groups in Australia. The company operates through three-segments namely property investment ? rental, property services and property & project management.
FY19 EBITDA Guidance: With a media release on 14th August 2019, the company has provided its guidance for earnings before interest and tax (EBIT) for FY19. DGH expects its EBIT to come in the range of $39.1 million to $39.3 million for the above financial year. The company will announce its 2019 results on or before 23rd August 2019.
Founding Principal of BRI Ferrier joins Desane's Management:  On 10th July 2019, the management has confirmed the nomination of Mr Peter Krejci to the Board of Desane. Mr Peter Krejci, was the founding principal of BRI Ferrier and had 20 years of wide experience in corporate management. Peter's has professional experience in property development, retail; logistics, financial services, manufacturing, mining etc. Peter is a Director of The Huntley Group and Castlereagh Capital.
Chairman of Desane, Prof. John Sheehan AM, has cited that the experience of Mr. Peter can be utilised for the upcoming projects of the company.
H1FY19 highlights: During the period, CWN posted stellar results with revenue from property investment at $1,770 thousand, registering a ~180.9% y-o-y growth,  that from property services at $1,046 thousand , registering ~989.5% y-o-y growth and revenue from property project management at $51 thousand vs $38 thousand during H1FY18.
Net profit was at $27,730 million (up by 3468.9% y-o-y). The company has 70% interest in Lilyfield Road Joint Venture. During the year, the company has received a contribution to net profit of $39,993 thousands from the above JV.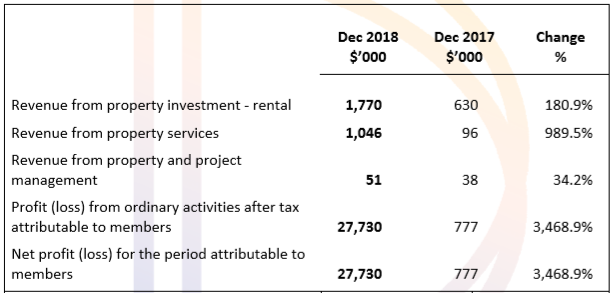 Source: Company's Report
Stock update: On 16th August 2019, by the end of the trading session, the stock price of DGH was at A$1.430 no change from its previous close. The company has a market capitalisation of A$62.13 million and delivered annualised dividend yield of 3.21%. At CMP, the stock is available at a P/E multiple of 2.070x. DGH has delivered a positive return of 3.7% in last three months.  The stock has delivered positive returns of 7.69 % and 3.70% in the past 3 months and 6 months, respectively.
Beacon Minerals Limited:
Beacon Minerals Limited (ASX : BCN) is an Australia based mining company and specialises in  Gold exploration. The company has commissioned its 5,00,000 tpa gold processing plant at Jaurdi gold project.
Update on BCN's 100% owned Jaurdi Gold Project: With a press release on 14th August, BCN has provided progress details on the above project. The details are listed below:
Commission of main process water circuit, pumps and Lime Silo has been completed.
Leach and absorption tanks have been filled
Tailings slurry has been pumped into the Black Cat tailings Dam
Black Cat Tails water return line has been installed along with commissioning of Gland water pump,
SAG and Ball mill commissioned, and mill media is being added to the mills as throughput increases
Commission of Cyanide facility and first fill received on 10 August 2019
Toshiba Engineers have installed the SAG mill motor and variable speed drive; and
Storm Water Diversion Drain around the site has been constructed.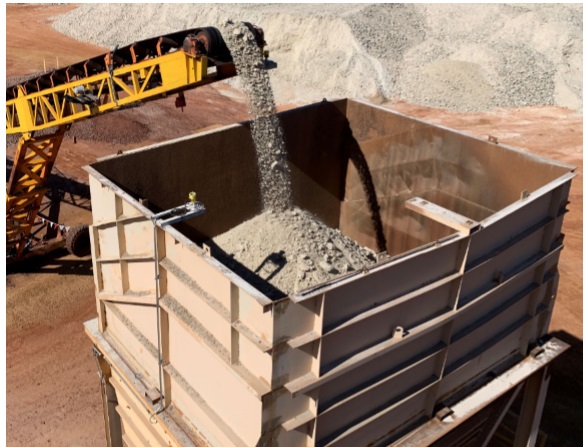 Source: Company's Report
H1FY19 highlights: BCN reported a loss of $5,386,680 in H1FY19 vs a loss of $1,809,222 in H1FY18. Exploration expense stood at $4,021,517 vs $1,809,222 in FY18. Cash balance at the end of 31st December 2018 the year was at $10,394,486.
Source: Company's Report
Stock update: With a market capitalisation of $143.92 million and approximately 143.92 million outstanding shares, BCN last traded on 14th August 2019 at $0.050. The stock has outperformed by 184.21 % and 189.27 % in the past 3 months and 6 months, respectively.
MEC Resources Limited:
MEC Resources Limited (ASX: MMR) is an Australian based Pooled Development Fund company which invests into major energy and mineral resources companies. One of the significant investments of MMR lies in the Advent Energy Ltd ('Advent') based in Australia. Advent has assembled a range of hydrocarbon permits which contain near term production possibilities with established infrastructure and exploration upside. MMR has it's headquarters located in West Perth, Australia.
Issuance of additional shares: With a media release on 14th August 2019, MEC confirmed the final date for the placement of Shortfall Shares to issue (announced on 9th April 2019) under the terms of the non-renounceable entitlements issue was on 10th August 2019. MEC also confirmed that since the previous App 3B announcement on 6th August 2019, the company received additional applications for 21,019,960 shares carrying a value of $ 105,100.
H1FY19 Highlights: During H1FY19The company posted revenue from ordinary activities at $54,289 vs $40,470 in H1FY18. Other income stood at $284,915from $79,158 in the corresponding prior-year period. Employee costs in H1FY19 was at $198,270, higher by 66.1% y-o-y. Exploration expenditure write-off was at $399,278. Loss from operations stood at $7,19,058 higher by 83.3% y-o-y basis. Cash balance as on 31st December 2018 was at $466,523.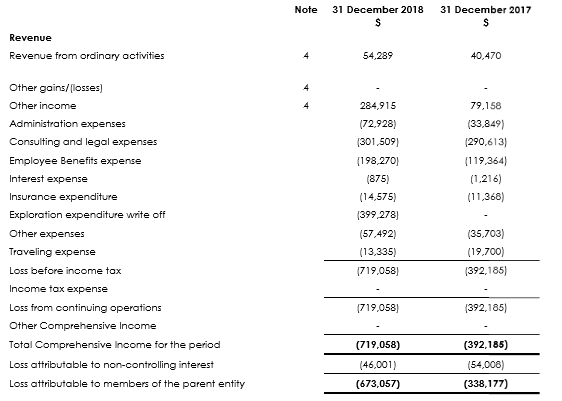 Source: Company's Report
Stock update: MMR's stock is quoting $0.006 on 16th August 2019 on closing basis, down by 33.333% from its previous closing. The stock has delivered positive returns of 80% and 0.70% in the past 3 months and 6 months, respectively. The stock has a market capitalisation of $5.56 million with approx. 618.24 million shares outstanding. The 52-week trading range of the stock was $0.004- $0.015.
Pacifico Minerals Limited:
Pacifico Minerals Limited (ASX : PMY) is Australia-based a mining company specialised in the exploration of mineral tenements in Australia and Latin America. The company is currently focused on the exploration of Sorby Hills Lead-Silver-Zinc Joint Venture project in WA. Pacifico owns a 75% interest in the Joint Venture with the remaining 25% (contributing) interest held by Henan Yuguang Gold & Lead Co. Ltd.
Update from Sorby Hills Project: On 14th August, PMY has updated the following regarding its 75% owned Sorby Hills project:
During the Phase II drilling campaign, 29 of the 75 holes completed. The results have turned improved over a period.
Results of Phase II drilling program expected to drive Indicated Resources from the next Mineral Resource Estimate ('MRE') planned for September 2019 onwards.
Results received from the B Deposit indicate major shallow (from 10m) extensions of the Indicated Resource area which remains open to the north and south and is considered likely to link up with A Deposit.
Source: Company's Report
Quarterly activities and Cash flow report: PMY reported a total expenditure of $8,98,000 for its exploration purpose during Q4FY19. However, the total amount during the year stood at $2,110,000. Administrative &corporate costs amounted to $2,00,000 during the quarter, followed by staff costs at $90,000. The company reported an outflow of $1,182,000 from cash from operations. Cash from investing was an outflow of $2,281,000 followed by a cash inflow of $3,803,000 from Financing activities. Cash balance as on 30th June 2019 stood at $1,964,000.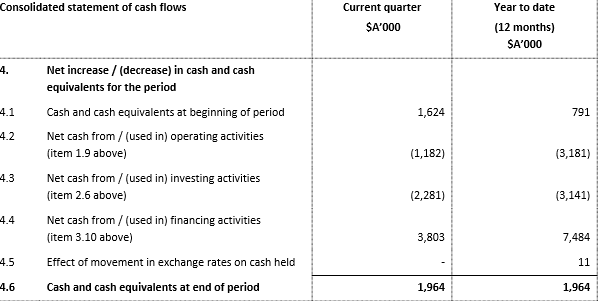 Source: Company's Report
Stock update: The stock PMY has delivered healthy returns of 50% and 80% during the last three and six months, respectively. Currently, the stock of PMY is quoting at $0.009, with no change as on 16th August 2019. PMY has a market cap of $20.82 million and total share outstanding for the company stood approximately at 2.31 billion.
Sayona Mining
Sayona Mining (ASX : SYA) operates in identification, acquisition and evaluation of mineral exploration assets, focussd on lithium. The Company undertook feasibility studies on Quebec-based Authier Project and exploration activities across Australia and Canada. The company is also engaged in sourcing and developing  raw materials required to manufacture lithium?ion batteries.
The company's Board and management has contributed $925,000 in the business: These funds will part-fund a total of $1.2 million the company aims to raise through a placement of $1.2 million. The placement will consist of new shares with an issue price of AUD$0.0086 per share plus one unlisted option for every two new shares issued, exercisable at 3 cents by 23 July, 2022
The funds will be utilised for the working capital requirement in company's Lithium Project in Québec, Canada.As informed in a recent investor presentation, the mangement expects the regulatory approval to take approximately 13 to 18 months.
With a market update on 14th August, the company has informed about the cash flow of the company for the quarter ended 30th June 2019. During the quarter, cash utilised for operating activities stood at $7,39,000 followed by $28,000 capital investment. The cash balance at the end of June 2019 stood at $1,725,000.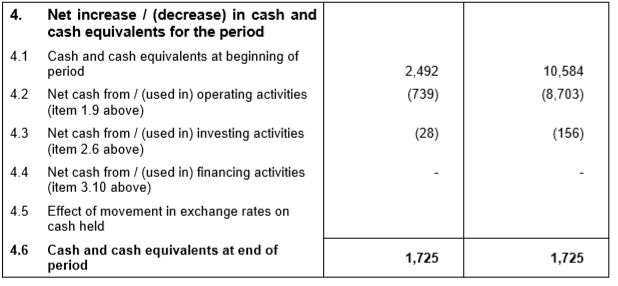 Source: Company's Report
Stock Update: With a market capitalisation of $15.5 million and approximately 1.72 million outstanding shares, SYA closed the day's trading at $0.009 on 16th August 2019, up 12.5% from its previous close. The stock has delivered a positive return of 12.50 % in past one year. 52-week trading range of the tock stood in between $0.006 to $0.040.
---
Disclaimer
This website is a service of Kalkine Media Pty. Ltd. A.C.N. 629 651 672. The website has been prepared for informational purposes only and is not intended to be used as a complete source of information on any particular company. Kalkine Media does not in any way endorse or recommend individuals, products or services that may be discussed on this site. Our publications are NOT a solicitation or recommendation to buy, sell or hold. We are neither licensed nor qualified to provide investment advice.
There is no investor left unperturbed with the ongoing trade conflicts between US-China and the devastating bushfire in Australia.
Are you wondering if the year 2020 might not have taken the right start? Dividend stocks could be the answer to that question.
As interest rates in Australia are already at record low levels, find out which dividend stocks are viewed as the most attractive investment opportunity in the current scenario in our report.
CLICK HERE FOR YOUR FREE REPORT!