A marketing strategy of 'want' and 'need' of the customer has proven to hold an important position while the world is combating against the virus effect. Businesses selling the essential items which are the real 'want' of the customers are faring better in the lockdown period. So, investing in diversified businesses from varied sectors can be beneficial in the current situation.
While the world is struggling with the unpredictable effect of coronavirus, under the backdrop of uncertain revenue it becomes hard for the boards across entities to decide on dividend distribution. Many entities are withdrawing or delaying the dividend payment to maintain their capital structure for survival. Investing in a bear market can be an advantage while thinking of long-term investment as the prices are available at a discount rate, usually fear overpowers rational thinking and thus assets get discounted below their intrinsic value.
Let us have a look at 6 stocks with a focus on three D's - Diversification, Dividends and Discounts.
Rural Funds Group (ASX: RFF)
Founded in 1997, Rural Funds Group is managed by Rural Funds Management Limited. The Company owns a varied portfolio of Australian agricultural assets.
Key highlights of RFF's Dividend:
As on 20 April 2020 prices, the Company has an annual dividend yield of 5.49. Interestingly, from 2016 through 2019, the Company has manged to grow its dividend at a rate of 4 to 7 percent.
Recently, RFF announced an unfranked dividend of $0.027118 per share for the quarter ending 31 March 2020. The payment date for the shareholders is scheduled to be on 30 April 2020.
The stock is currently trading at a price to earnings ratio of 14.880x and earnings per share of $0.131, as on 20 April 2020.
As on 20 April 2020, the stock has delivered a return of 1.56 percent on YTD basis. The stock closed the day's trade at $1.910 down by 2.3% as compared to its previous closing price.
Guidance reaffirmed & Mooral Go on the Block:
On 20 April 2020, the Company reassured its guidance for FY 2020 and FY 2021, as follows.
For FY 2020, distributions per unit (DPU) is likely to be 10.85 cents, an increase of 4 percent on prior year and adjusted funds from operations per unit is expected to be 13.5 cents.
For FY 2021, DPU is expected to be 11.28 cents, an increase of 4 percent on current year.
RFM has onboarded CBRE to market Mooral almond orchard, this decision was made on back of favourable comparable sales. Further, with the sale proceeds, RFM could redeploy as per its strategy to buy assets with higher earnings potential and better its climatic diversification.
Harvey Norman Holdings Limited (ASX:HVN)
Selling Homewares and consumer electricals player, Harvey Norman has 544 franchises and 194 franchised complexes in Australia with global presence of 95 offshore Harvey Norman® company-operated stores.
HVN is a high dividend-paying company with 11.5 percent of annual dividend yield and P/E ratio of 8.740x (as on 20 April 2020). The Company has delivered increased its annual dividend from 0.26 to 0.33 during 2016-19.
Stock performance:
On 20 April 2020 (02:11 PM AEST), HVN's stock closed the day's trade at $2.77, a down by 3.484 percent as compared to the previous close. The stock generated a negative return of 29.48 percent on YTD basis.
The Company has provided the following COVID-19 Updates:
HVN revoked its FY 2020 interim dividend of 12 cents per share which resulted in $149.5 million of cash reserved with the Company.
All online franchisee services and franchisee stores in Australia continue to trade and are available for deliveries. Company-operated wholly owned stores in Ireland, New Zealand, Singapore and Northern Ireland are open for business. Additionally, the independent branded franchised complexes including Domayne®, Harvey Norman® and Joyce Mayne® are operational in Australia.
For the next three months (starting from April till June 2020), HVN's CEO, CFO, Executive Directors and Non-Executive Directors will receive 20% less in terms of salary.
As directed by the respective Government, various stores that were closed are as mentioned below.

Slovenian stores have been closed from 16 March 2020 until further notice.
Malaysian stores were closed till 31 March 2020, starting from 18 March 2020.
Croatian store has been closed from 19 March 2020 for a period of 30 days.
Way forward, HVN intends to operate two new stores in both Singapore and Malaysia. Also, plans to open a new store in Ireland, in Sligo (by the start of August 2020) and at Galway (in April 2020).
Future Generation Investment Company Limited (ASX: FGX)
An ASX-listed investment company, Future Generation Investment has funds which aim to attain positive returns.
The investment company is currently trading with a dividend yield of 5.38 percent and a PE ratio of 16.46x (as on 20 April 2020 closing price). Also, the stock delivered a negative return of 21.19 percent on YTD basis.
Amidst the coronavirus spread, the stock price of FGX slipped from a high of $1.185 (on 13 January 2020) to $0.785 on 23 March 2020.
2.6 Cents of Fully Franked Dividend Declared
For the six-month period ended 31 December 2019, FGX declared fully franked dividend of 2.6 cents per share with payment date of 28 April 2020. This brings the full year dividend to 5 cps which is an increase of 8.7 percent on prior year.
As per recently released FY 2019 results for the period ended 31 December 2019, the average cash level increased by 9.9 percent and investment portfolio by 20.7 percent. Total comprehensive income increased to $63.3 million with $25.5 million and $22.4 million of operating profit before tax and after tax, respectively. Additionally, $4.6 million was invested in high-impact charities focused on youth and children at risk.
As at 31 March 2020, pre-tax net tangible assets stood at $1.39 and profit reserves of 4.3 cps for Future Generation Global. For Future Generation Australia, Pre-tax NTA was $1 and profit reserves were 8.8 cps.
Mirvac Group (ASX: MGR)
A diversified property group, Mirvac has 45 years of experience in the property business.
As on 20 April 2020 (02:50 PM AEST), the stock has delivered a negative return of 27.27 percent on YTD basis. The stock closed the day's trade down 4.31 percent at $2.220 as compared to its previous close. Based on 20 April 2020 closing price the annual dividend yield stood at 5.34 percent and P/E ratio of 9.03x.
Stable Rating
MGR continues to carry a credit rating of A3/A with a stable outlook from Fitch and Moody's. As at 31 December 2019, Mirvac holds cash of $944 million and gearing levels of 20.8 percent. Additionally, the Company has $200 million of debt which is maturing in the next 12 months and can be repaid from the committed undrawn bank facilities.
As a prudent approach, the Company has suspended its guidance and distribution for FY 2020. Also, MGR also withdrew any statements regarding passive and active earnings.
On 7 February 2020, Mirvac notified the market that it has agreed to acquire a landmark site in Willoughby which is occupied by Nine Entertainment Co.
Macquarie Group Limited (ASX: MQG)
Financial service provider, Macquarie focuses on banking, funds management and investing services.
On 20 April 2020, the stock closed the day's trading at $100.17, marginally down by 0.239 percent as compared to its previous close. Further, it has delivered a negative return of 26.99 percent on YTD basis. MQG's annual dividend yield was 6.08 percent and P/E ratio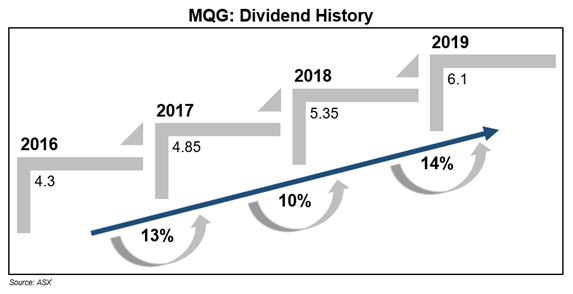 of 10.850x.
As at 31 December 2019, MQG pro forma capital surplus was $5.3 billion. On an APRA basis, pro forma Tier 1 Capital Ratio of Macquarie Bank Limited (MBL) was 12.7 percent. On 8 April 2020, long-term issuer rating of MBL was upgraded from A to A+ by Standard & Poor.
Post considering APRA's guidance, Macquarie's Board taken cognisance of the need to preserve capital and undertake measures to meet the same. The Company has planned to announce its results FY 2020 on 8 May 2020.
Pendal Group Limited (ASX:PDL)
A global investment management company, Pendal Group serves Australian customers. The Company focuses on advisory services and portfolio management to institutions, individuals, private funds, trusts, investment companies and charitable organizations.
Pendal is a high dividend-yielding company, with 8.77 percent of annual dividend yield and P/E ratio of 9.430x, as on 20 April 2020. On YTD basis, PDL's stock witness a substantial negative return of 27.64 percent. Also, the stock closed the day's trading at $5.070, a drop of 1.17 percent as compared to its previous price.
PDL has no debt and possesses a solid balance sheet. Amid the virus outbreak, the Company is balancing its cost discipline to improve operating platforms for its clients.
FUM announcement:
The Company notified the market that it has $86 billion of funds under management for the quarter ended 31 March 2020, a dip of 15.2 percent as compared to 31 December 2019. The market falls of main equity indices lie in the range of 24.9 percent to 21.4 percent over the period. The fall in value of FUM for PDL is considerably better than the market, thanks to PDL's strategy of diversification across products and markets.
The FUM value for Pendal Australia and J O Hambro Capital Management stood at $40.7 billion and $45.3 billion, respectively. (detail as indicated in the table)
---
Disclaimer
This website is a service of Kalkine Media Pty. Ltd. A.C.N. 629 651 672. The website has been prepared for informational purposes only and is not intended to be used as a complete source of information on any particular company. Kalkine Media does not in any way endorse or recommend individuals, products or services that may be discussed on this site. Our publications are NOT a solicitation or recommendation to buy, sell or hold. We are neither licensed nor qualified to provide investment advice.