About Company
ASX-listed clinical-stage oncology firm Prescient Therapeutics Limited (ASX:PTX) is focused on the development of revolutionary personalised therapies for challenging cancers having unmet medical need. Prescient's key programs are universal CAR-T and targeted therapies. Both approaches seek to improve patient outcomes and develop new tools for clinicians to combat cancer.
Notably, Prescient Therapeutics is backed by a leading team of global cancer specialists who hold extensive experience in advancing new cancer therapies.
Prescient has a comprehensive product pipeline of personalised cancer treatments for several different cancers: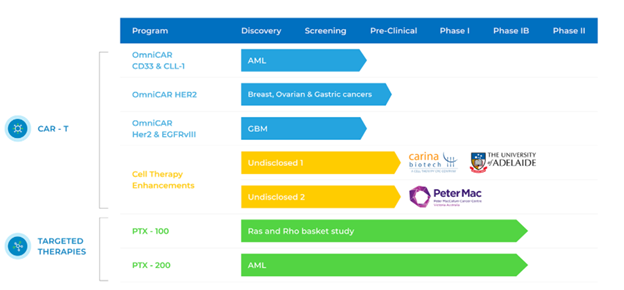 Source: PTX Website
CAR-T therapies include OmniCAR and Cell Therapy Enhancement Programs
OmniCAR program: Prescient's universal CAR-T platform, OmniCAR, employs technology that is licensed from the University of Pennsylvania and Oxford University.
PTX's pioneering OmniCAR program will allow unprecedented control and flexibility over the current generation CAR-T methods.
Interestingly, Prescient has announced three next-generation OmniCAR programs for AML, Her2+ solid tumours and glioblastoma multiforme (GBM). PTX has also entered into a new research agreement with Peter MacCallum Cancer Centre to advance its CAR-T programs.
Cell Therapy Enhancements (CTE): Prescient's CTE programs are progressing well with initial promising findings. Two CTE programs are underway with Peter MacCallum and Carina Biotech, respectively.
Targeted Therapies - PTX-100 and PTX-200
PTX-100 is a first in class RhoA inhibitor and can block GGT-1 (geranylgeranyl transferase-1), a crucial cancer growth enzyme.
Currently, the compound is in a PK/PD basket study to treat hematological and solid cancers, focusing on malignancies with Ras and RhoA mutations.
In an earlier Phase 1 trial for advanced solid tumours, PTX-100 achieved stable disease and was well tolerated.
PTX-200, a novel PH domain inhibitor, blocks Akt pathway. Akt plays a vital role in the development of numerous malignancies, including breast and ovarian cancer and leukemia.
PTX-200 has a unique mechanism of particularly inhibiting the Akt pathway in a comparatively safe manner, unlike other drugs targeting Akt inhibition.
PTX-200 has previously reported promising data in Phase 2a study for HER2-negative breast cancer and Phase 1b trial in ovarian cancer (recurrent or persistent platinum-resistant).
Currently, Prescient is assessing PTX-200 in relapsed and refractory Acute Myeloid Leukemia.